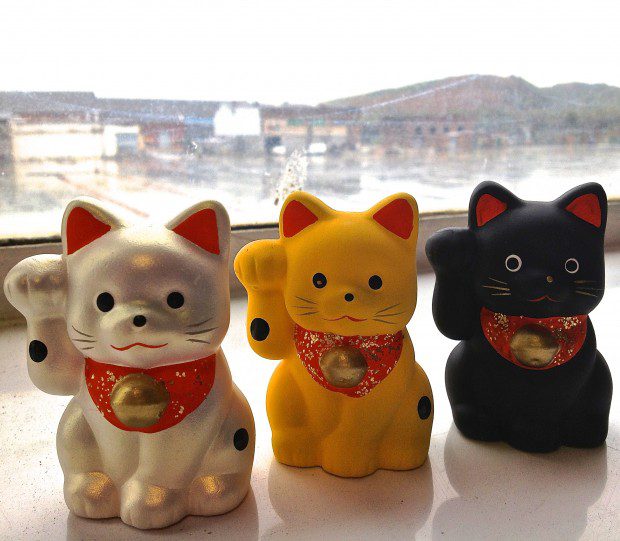 LUCKY CATS
In Japanese culture, these squat little sculptures (usually ceramic or plastic) are called Maneki-neko, or "Beckoning Cat". They're lucky charms. Usually, the cat has one paw raised upwards. You can find them all throughout Asia, often in restaurants or shops.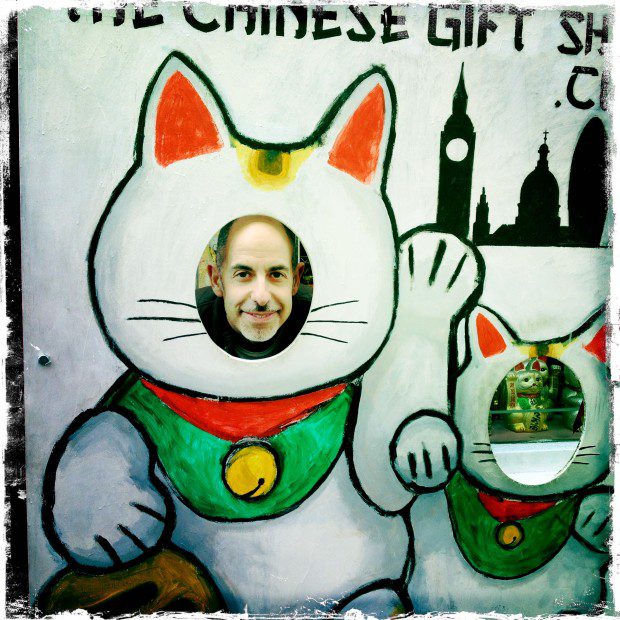 About 5 years ago, I was flying back from Viet Nam. I was stuck in the Hong Kong airport for about 5 hours, wasting time in the endless shopping malls. One duty-free shop had these bulk-sale packages of plastic Lucky Cats with chocolate inside. You could buy 50 for about twenty dollars. For some compulsive reason, I bought a box of 50 and lugged them back to Los Angeles. I had a film in pre-production (The Unborn) and again, for some compulsive reason, lugged the Lucky Cats to Chicago, where the shoot was occurring. I decided to start awarding Lucky Cats every Friday, to the MVP for that particular week. Sometimes, it was an actor. Sometimes a crew member. It might be the production designer, or it might be a production assistant. Gradually, the crew got into the spirit and started competing for Lucky Cats. It became a 'thing'. So it's become a tradition on every shoot I do. We did it on Flashforward and I've transposed the tradition to the UK for Da Vinci's Demons. The first thing I did, upon arriving in Swansea, was to have my assistant track down a box of bulk Lucky Cats. To date, we've awarded about 30 of them on Da Vinci's Demons. I like to joke that if a particular crew member fucks up after being awarded a Cat, I can always take it back. But I never have. Film shoots can be so grueling that you have to do these things to keep up spirits. Lucky Cats and boxes of Krispy Kremes were utilized strategically.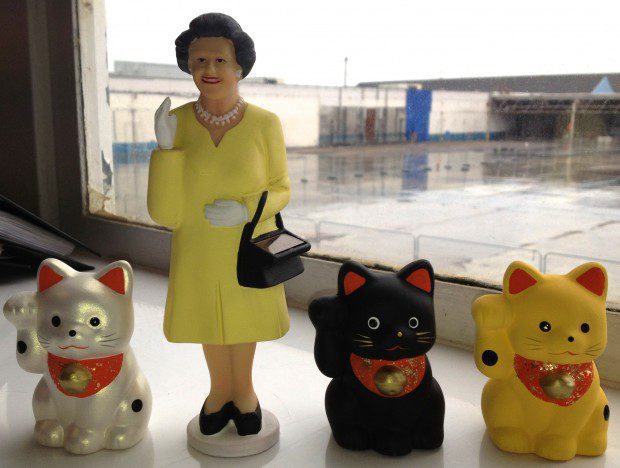 Yesterday, while walking back to my hotel in Soho, I passed by a shop that only sold Lucky Cats. There was a plywood standee in front where you could pose with your face in a Lucky Cat. So I did, and here are the photos.